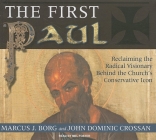 The First Paul: Reclaiming the Radical Visionary Behind the Church's Conservative Icon (Compact Disc)
Not in stock. Usually ships in 1-5 days from the warehouse.
Description
---
Marcus J. Borg and John Dominic Crossan, bestselling authors of The Last Week and The First Christmas, join once again to present a new understanding of early Christianity-this time to reveal a radical Paul who has been suppressed by the church.
About the Author
---
Marcus J. Borg is the Hundere Distinguished Professor of Religion and Culture, Emeritus, at Oregon State University and Canon Theologian at Trinity Episcopal Cathedral in Portland, Oregon. He is the author of the bestselling Meeting Jesus Again for the First Time, The Heart of Christianity, Reading the Bible Again for the First Time, The God We Never Knew, and Jesus. John Dominic Crossan is an emeritus professor of religious studies at DePaul University in Chicago. He is the author of several bestselling books, including God and Empire, The Historical Jesus, The Birth of Christianity, and Who Killed Jesus? He lives in Minneola, Florida. Mel Foster is a former ad agency executive who used to record test tracks for commercials. An audiobook narrator since 2002, he won an Audie Award for Finding God in Unexpected Places by Philip Yancey and an AudioFile Earphones Award for the novel Match Made in Heaven by Bob Mitchell. Mel is the author of several novels, including Shaking Hands with Lefkowitz, and he hopes that one day listeners will get the opportunity to hear him reading something that he's written himself.
Praise for The First Paul: Reclaiming the Radical Visionary Behind the Church's Conservative Icon…
---
"A refreshing and heartening exculpation of a still routinely maligned figure of the first importance to culture and civilization." ---Booklist Starred Review