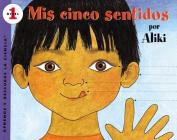 My Five Senses (Spanish edition): Mis cinco sentidos (Paperback)
Not in stock. Usually ships in 1-5 days from the warehouse.
Description
---
La vista y el olfato, el gusto, el oído y el tacto -- nuestros sentidos nos enseñan a conocer el mundo que nos rodea. ¡Descubre cómo usas tus cinco sentidos!
About the Author
---
Aliki has written and illustrated many books, both fiction and nonfiction, loved by readers throughout the world. The books were inspired by a word, an experience, or the desire to find out. Aliki says, "I'm not so great at pushing buttons, but I know things happen when you do." Aliki lives in London, England.