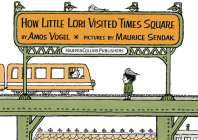 How Little Lori Visited Times Square (Hardcover)
Not in stock. Usually ships in 1-5 days from the warehouse.
Description
---
A Sendak treasure long out of print available for the first time in decades.
About the Author
---
Amos Vogel was born and educated in Vienna and came to America during the War. He founded Cinema 16, which was at one time the world's largest film society, sat on international film juries, and has written and lectured on films.